Like Transformers...
ony worse!
Good morning! Guess what? I'm a Spam-Bot! Yes, I was forced to see this deep truth yesterday as I made my FIFTH attempt to navigate a flippin' captcha-whatever-they're-friggin'-called thingy to leave a comment on a blog! I…am a Spam-Bot! *deep sigh of sadness*
Now I'm wondering if I should start speaking in phrases like, "Click here for the latest weight loss secrets!" or "Follow me and find out how to get 5000 new followers a day!" AWESOME! (Although, it could make for some interesting conversations…)
Daughter: "Hey Mom, do we have anything to munch on?"
Me: "Would you like to know the beauty secrets of the Stars?"
Daughter: "Huh? I just wanted to know if we had any chips…"
Me: "Learn how you can earn a six-figure income while working from home in your bathrobe!"
Daughter: "Ummm…Are you feeling OK? I mean, I'm used to you being all weird and stuff, but this is REALLY creeping me out!"
Me: "Would you like to have the body and stamina that you did when you were 20? Would you like to last longer and be harder…"
Daughter: "OK STOP!!! Number one, OOOOOO!!!!! Number two? I'm your daughter. Ya know, a GIRL? Number three, what the F#@K!?!" (Yeah, she gets her mouth from me…)
Me: "Click here and take our survey. You could win a new car!"
Daughter: "You know what? Just forget it! I'm really not hungry anymore. Oh and also? I'm calling Dad!"


I guess I should get used to this sort of thing, since I'm obviously not a person anymore! I mean half those letters? They look like Rorschach tests to me.
Oh, and I tried clicking the button for the audio version, mistakenly thinking a clear voice would read it off for me negating the need to stick my nose two inches away from the screen and squint, switching from side to side in hopes that one eye was better than two in this instance.
What I actually "heard" was akin to the exorcism scene from any number of freaky movies dealing with possession! It scared the living CRAP out of me! I swear, the voices of at least three different non-corporal entities emerged from my computer speaking, whispering, and calling me in closer to tell me all manner of dark secrets!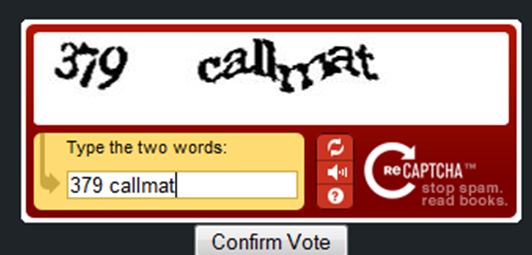 This? Pure EVIL!
After I got up the courage to unlock the bathroom door and come back out, I was able to figure out how to shut the darned thing up, even if I was never able to define any clear words, letters, or otherwise.
I figure one of two things is going on here, either I need new glasses and my Meniere's
is active making it difficult (or impossible) for me to separate out background noises, or while I was sleeping aliens landed and replaced "me" with a Spam-Bot. (Just like the whole "pod-people" thing from Invasion Of The Body Snatchers!)
I suppose only time (and an eye exam) will reveal the truth. Until then, may your day be filled with good friends to watch your back while you sleep to make sure the Spam Aliens don't get to you too and easy-to-read little boxes if you're inclined to leave comments on blog pages!
Now…Would you like to know how much you could save by shopping on-line?...