Good afternoon! I think I must have gained some weight because my ranty-pants are too tight! I'm pretty sure they're actually starting to cut off the blood-flow to my brain. Maybe that's why I'm feeling like talking about hamsters today.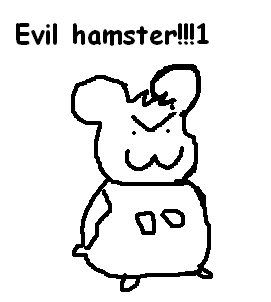 "OK, I'll play your silly, little game. Why hamsters!?!" Hey, thanks for asking! Have you ever noticed that while hamsters may be cute and cuddly, they're also capable of being viscous, evil little buggers? Yep! If they're overcrowded they'll eat their young, fight non-stop, and cannibalize the weaker critters. They're also notorious for mind-numbingly running on stationary wheels, getting nowhere fast.
Begin rant: I started delving into the on-line Support Communities about a year and a half ago. I found some great groups, some creepy places, and some down-right scary, dark corners. I found places full of pain, tears, and cries for help. Then there were the awesome groups that were healthy, helpful places to be, but disease specific.
It took a while, but I eventually found a few that welcomed everyone and were apparently great places to go for help, support, a little venting, and a lot of virtual "hugs." (You can find some of my favorites on the "Sites" I Love To See page.)
While haunting these places, I've seen people come and go. I've seen people jump in with both feet, only to disappear into the dark a few days later. I've seen new groups pop-up and old groups die. I've even witnessed group-to-group warfare. Sadly, I've seen WAY too much hamster behavior…*sigh*
(Hold on to your hairpieces…I'm about to switch gears!) I freely admit I've never been much of a George Orwell fan. (Just work with me here for a minute. Don't I always manage to tie it together…for the most part?) I'm just not that big on politics in my fiction. I want books that let me escape, not make me do some deep-thinking. Also? Maybe there's a secret part of me that hated him for being right.
It seems that whenever you put a large number of people together there are a few things you'll begin to notice. There's always going to be natural-born leaders, those who prefer to quietly sit back and let someone else take the lead, and those who are positive they know what's best for everyone involved. Then Community participation turns into "Survivor: List Edition!" with people choosing teams, plotting strategies, and the hamster behavior begins!
Here, I will again reassert my position as the Court Jester…because the Jester was an outsider. He walked in the World of the "Important and Powerful," but he remained invisible unless summoned for entertainment. He watched, he waited, and he satirized. But…he never exactly "belonged."
I have always felt like one of the outsiders in life. Maybe it was due to my bi-polar glitches. Maybe it was because of my nervousness around people. Maybe it had to do with my refusal to follow the rules, my skewered way of looking at things, or just because I really didn't want to fit in.

(And the joke cracking thing? It's always WAY better to have people laugh WITH you instead of AT you!)
At first I thought that people in the Chronic Illness Community would be different, since we already stand a ways apart from those without limits and our unique situations. But *sadly shaking head* I was wrong. People are people, whether they be sick or healthy. And the human dynamics I despised in Orwell's books? They apply no differently to any one group of folks than another.
Now, on one hand I have seen some down-right ass-hats turn their lives around and become truly awesome individuals. Conversely, I have seen apparently great people let illness turn them bitter and angry, souring their love of life. But by and large, the lesson I've learned is people are the same as they've always been, sick or healthy. (Orwellian hamsters...)
End rant.
(Now, to attempt to wrap this all together to make sense…or at least pretend I can. *grin*) I think that may be one of the things I'm lovin' most about the people I've "met" who read this "stuff"…most of you guys have felt like the "outsiders" at one point or another yourselves. You guys are the rule breakers, the joke crackers, and the quietly glitchy. We are mostly the ones who see the world slightly different than most…and I love that about you guys!
Oh, but I'm thinkin' right about now, the thing I love most about those of you I've "met" either here, on Facebook, or Twitter…is the distinct lack of hamsters in the crowd. 'Cause those tailless little critters? REALLY creep me out!
May your day be filled with new and unusual ways of looking at life, crap-tons of empathy and compassion (yes, I still say it's a valid unit of measurement!), and the knowledge that there are no requirements to hang out here…Well, other than the ability to read. (Although, I guess if you can't, you're still more than welcome to stare at the screen… or grab a friend to read it too you! That way? You can both laugh together…which is like, DOUBLE the fun!)