Good morning! OK…this could be bad. VERY bad. I'm not sure what the heck I've done and I have no clue how to UN-do it! So now? It becomes a waiting game. Yes, yours truly, the techno-idiot, has been messing with the blog again…The coolest thing is? I didn't really mess with the lay-out this time, I monkeyed with the TEMPLATE!
In the past month, I've gotten several e-mails and messages about the fact that Blogger is being a big, fat baby and not allowing those with Wordpress blogs to post comments. (And how sad is it that I actually had anxiety dreams last night about the comment section eating me alive!) So when I woke up this morning in a pool of sweat muttering, "CommentLuv!" I knew it was time to do something about it!
So away to Ask.com I went. (You know, the search engine for the Google-impaired?) I found an amazing tutorial at Helping Hand Reviews easy enough…and followed all the steps (I thought) just like it was laid out in the screen shots.
The only snag? IntenseDebate must have misread what it was supposed to do after Step 3, because it offered me a different prompt…and I followed it with abandon! Yes, I didn't just click the "add" button for the comment widget, I fed it my entire blog template!
Now, what comes next is anybody's guess. I've played around and fail to see any difference. (Maybe I fed it someone else's blog?) All the buttons and clicky things I said, "Sure! Go for it!" to adding? Not seeing them anywhere! But I suppose the true test will be when some brave soul decides to leave a comment.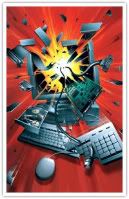 In theory, the first time you "comment" it'll ask you to fill in a short form-y thingy. (I've used it on other sites and LOVE it!) When your comment posts, if you write a blog then the most recent post will appear as a link at the bottom of your comment. (YAY! Links!) If I did something wrong? The entire site will implode, disappear forever, and I'll cry a lot. (Go ahead…be the first…*grin*)
I swear peoples, if I knew what the living-schnikies I was doing? I'd be dangerous! (Not that I'm NOT dangerous as it is, just in a different way.) I'm just thinking, maybe I should try the whole "re-install" button for good measure?
After all…how bad could it REALLY get? (Famous last words!)
May your day be filled with gadgets that run smoothly, things that don't implode, and may my site not crash and burn for what I am about to do…