Good morning! Today my brain is about three steps BEYOND lost in the fog…The weather is finally cooled off a teeny, tiny bit and I've got "Can't Find My Way Home" by Blind Faith stuck in my head. All in all, not a bad start to a day.
The slight shift in the atmosphere coupled with the mellow, moody music does have an interesting effect. It reminds me of long-forgotten desires from childhood. It calls up the times I'd wander through the woods in search of Gypsies… You see, most little boys may talk of running away with the circus, but me? I always dreamed of running away with the Gypsies. And this morning? The Gypsies are calling me…..
Their painted wagons, hidden deep in the dark and mysterious forests of Somewhere, are being expertly packed. The campfires that were used throughout the murky night to ward off the wolves are quietly being extinguished and all traces of their existence erased.

The ribbons that hung so joyfully in the trees and fluttered on the breezes are put away, to hang again at their next stop. Shadowy horses are deftly hitched with leather that's been studded with magical bells….and as quietly as a dream, they move on.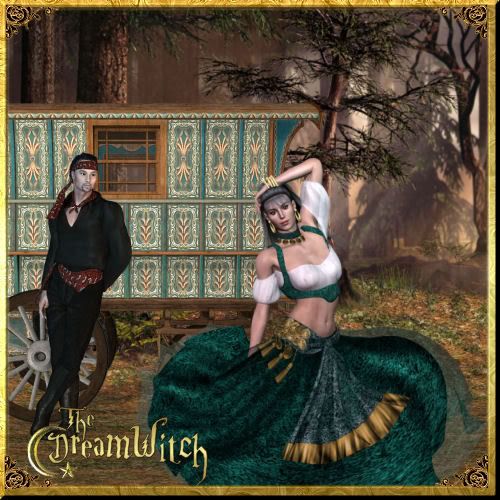 This is always how I pictured it would be…The women adorned in long gauze skirts that twirl as they whirl through a hypnotic dance around the fire, their arms bare except for the clinking bracelets that encircle their wrists. Their feet, of course, are shoeless so they can feel every inch of the Earth, tracing circles and spirals in the dirt as they move to the rhythms of the belled anklets they wear.
Maybe the older ones wear colorful scarves on their heads, the ones with the tiny, gold coins sewn on the edges to make them look all the more magical. The younger girls let their silky hair flow free as they move about in the comfort of their own skin.
Young or old, the Women are all keepers of the secrets of magic and the mysteries of life, as it has been handed down generation to generation. They know the art of fortune telling and making potions from herbs. No one bothers them since they can lay the "Evil Eye" on you, and you'll be cursed forever! But, if you cross their palms with silver…cross their palms with gold, they might be persuaded to tell your future, or mix you a Love Potion to help catch your heart's desire.
The men are all strong and honorable…to their own. So maybe they'll run a scam or card game on the occasional "outsider".

The Outsider should have known better…
These are people not bound by Modern Society or the rules of "Shoes and Shirt Required." These mythical folk spend their lives living on their terms, always surrounded by the sheltering trees and hidden by curtains of dark, welcoming green leaves.
In this world, there is always abundant music and laughter. Someone quietly caresses a fiddle as the caravan rolls out in search of its next camp or town. Someone strums a guitar, bringing forth its melodic voice to welcome the impending day as the Sun begins its ascent. Someone sings sleepy folk songs as the moon rises, sweetly lulling the men and women to their beds. For every peaceful moment in this life, there is a melody to celebrate its passing.
This was…is…the world I dream about living in. This imaginary place where putting down roots and growing sedentary…where living a life like sand piling on top of sand until the weight crushes the bottom into rock…this is the nightmare.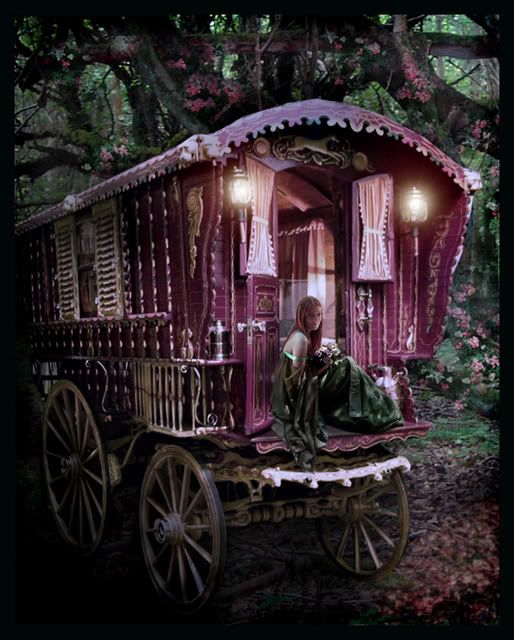 This world where your home travels from place to place with you always represented a freedom few people will ever truly know. This life of simplicity where "things" fail to hold the same allure as they do in our modern lives, where whatever can't be fitted into your wagon, isn't needed.
In my dreams, this is the world where your children grow up, marry and raise families of their own and live full, complete lives in wagons of their own only a couple of horses away, as opposed to a couple of States away. Where everyone, generation after generation, celebrates the passing of the days together, gathered around the ever-present fires.
This is a world where there are no televisions…no Nightly World News, no reality TV. This is a world where the best entertainment is the Old Ones telling tales through song and verse to pass the long, winter nights and remind all of not only where they've come from, but also the places they will go.
This is a world where having "itchy feet" and wanderlust isn't a bad thing. Where you can go where the day may take you and no one calls you irresponsible. Where the wind blows the same compelling calls of, "Come…move along…follow me!" A siren's call to all the free-spirits…and it's heeded!
Waiting for the Gypsies...
Today, the wind is tickling my soul….teasing and taunting me, "Come! Play! Wander off and get lost!" My feet are itching, longing to feel the leaves crunch beneath their slightly-fallen arches….I so long to dance in the soft, cool loam in the deepest part of the forest.
My secret self longs to throw its head back and laugh the full-bellied laugh of careless abandon! To sing the songs of life, and not worry if I'm on key or not…I ache to RUN, FLY...just be FREE!
Today, my body may tell me I need to rest…to sit and give it the time it so desperately needs to work on healing itself, but my mind? Today my mind and soul are lost in the cool, hidden darkness of the trees…dancing to the rhythm of a haunting fiddle. In my heart, I am leaping and laughing around a fire, answering the distant calls of the Caravan…
May your day be filled with magical mysteries, music that sets your soul free, and the little smile that come from remembering dreams from long ago and far away!