Good morning! OK, I need a show of hands from all of you who have ever heard the phrase, "I am NEVER bringing my boyfriend/girlfriend home for dinner!" (Damn it! I can't see any hands! Stupid computer…)
OK, so our "public" eating habits
aren't much better. THAT'S why
we only eat out at places where they
expect you to use your hands and
be loud and obnoxious!
Last night as we were having a nice, relaxed family dinner, my daughter looked around and uttered that very phase. I was shocked! Confused! Maybe even a little hurt…I mean, we were all being on our best behavior. *falls out of her chair she's laughing so hard at her own blatant exaggeration*
After I managed to pick my jaw up off the floor, I looked around the table to try and figure out the root of her problem. We were having taquitos and tamales (they were frozen things peoples…I am NOT that energetic!) so it was more or less "finger-food" night. (Like every night isn't? I've even been known to eat mashed potatoes and gravy with my fingers, but I digress.)
At the far end of the table, The Boy (our youngest) was loudly discussing video games with his older brother…with his mouth full of food. His beef taquito smothered in ranch dressing was kinda spit-flying in pieces in a two foot radius as he kept gesturing and turning his head to politely involve all of us in his thoughts on the subject. Sure, it would have been MORE polite if he'd included an, "Oops! Sorry," every time a chunk hit someone's face or plate, but the kid was at least trying not to exclude anyone…
He's so mean! he managed to
remove the partially deflated
taquito from his mouth BEFORE
I snapped the pic...bone-head!
The Boomerang Kid (our oldest) was busily sucking the insides of his taquito out before cramming the entire empty shell into his mouth in one go. The painfully loud slurp-squelch-slurp-y sounds could probably have been a tiny bit quieter, but really? Who was he hurting!?! He was actually being REALLY polite, since this evening he wasn't displaying his chewed food for all to see before his eyes rolled back in his head to assist in the swallowing process…kinda like a shark. (That's right, I enforce MANNERS in my home!)
Hubby was filling me in on all the "fun" of his work day…it was a VERY colorful conversation. Some people may think he was talking a teeny bit loudly (OK, maybe it was more like scream-talking) but if they would have paid attention, they would have realized he needed to be loud. His face was a mere inch from his plate, allowing for minimum effort in moving the food from plate-to-mouth, so volume was required to carry not only over The Boy's spittle-speech, but also to get past the muting effect of the fork-plate-mouth action. (See? He was even using a friggin' FORK!)
Me? I was ABSOLUELY on my best behavior! I was sitting cross-legged in my chair, (my feet weren't even on the table tonight!) nonchalantly using my finger to "scoop" up the sour cream-salsa-salt mess left behind by the more solid food stuffs. (I didn't want to be wasteful. Geeze!) Also? Not wanting to leave anyone out, I was commenting on both The Boy's and hubby's conversations. (Fine! There may have been one or two hiccup-belches that slipped out when I was distracted, but I said, "Oops!" and, "Wow! That was a good one!" so it's not like I was being rude.)
Then I looked at The Girl…and wondered just what happened with her? She was sitting up straight, her left hand in her lap, daintily folded atop her napkin. (Yes, I said NAPKIN!) She was using a FORK to eat her food…and her elbow wasn't even on the table! And you know what else the little scamp was doing? CHEWING WITH HER MOUTH SHUT!!!

(I'm not totally sure about the whole "rocking action" she was performing with every bite, but I think she may have been leaning over her plate so as not to get crumbs everywhere.)
*deep troubled sigh* Sometimes as a parent, you're forced to wonder just where you went wrong. I'm thinking it was too much TV in her formative years…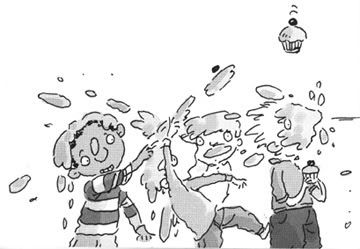 This could be my three boys
"passing" food at the dinner table!
Anyway…back to the original topic…I tried to tell The Girl that she could use dinner with us as a litmus test, of sorts. I figured if her Chosen One made it through a meal at our house and still called her the next day? Then she'd KNOW it was true love! Also, if the Chosen One looked at her on the way home and sweetly asked, "How in the world did YOU come from THAT!?!" then she'd know they were marriage material! (I find absolutely no flaws with THAT logic!)
So you see, the rest of us have made it a habit of eating like a pack of wild, LOUD animals all for her! (Didn't I tell you I was a giver?) We see every meal as a dry-run…another attempt to perfect our "weeding-out the unworthy" skills.
And it's tiring, folks! Really…all that loud chewing while hunched mere inches from you plate, reaching halfway across the table to grab the salt while making sure your arm pit is directly lined up with the person to your left's nose, and all the extra laundry to do because someone (or all of us) opted to use their sleeve to remove the schloppier remnants form their face instead of using a paper napkin…it's completely exhausting! (And yes, "schloppier" is a real word…'cause I just made it up. It's a contraction of "sloppier" and "chunkier" and an apt description of some of the stuff I've seen clinging to the faces of my male offspring during various meals.)
So there ya have it! Maybe tonight during meal time, she'll FINALLY stop rolling her eyes and show some appreciation. *smiles to show pride in a job well done*
May your day be filled with meals your family eats more and wears less of, children and spouses who appreciate

your sacrifices and hard work, and all the laughter a dining area can hold!