Good morning! I seem to have caught a case of the "stupids" today. ("What do you mean today?" Very funny. Now shut it!) (And no, I'm not heckling myself…again, shut it!)

Hey, coming up with new pics
takes brain power...which I'm
obviously lacking today!

See? THIS is what I'm talking about! My brain seems to have gone all rogue, refusing to bend to my will and work WITH me! The fog has rolled in…*insert sinister music here*...the Brain Fog! (And for you lucky buggers NOT in the "know," *brain fog is the wonderful side-effect of chronic pain. Your brain eventually becomes so pre-occupied with containing-controlling the pain and remembering to breathe, that all intelligent thought centers are shut down, diverting the required energy to pain management. It's like you're trying to think through cold molasses!)
Since today is Friday (which I only just now remembered) and Top Ten list day, how about a top ten list about the joys of Brain Fog? (Too bad, I'm doing it anyway!)
Top Ten "You Might Have Brain Fog If…"
1)
…you find yourself sitting on the "john" and don't remember what you were doing…(NO FRIGGIN' JOKE! Happened half an hour ago!) (Please…don't make me keep saying, "Shut it!" I'm starting to feel like I'm being rude.)
2)
…you've lived at the same residence for darn near seven years and have to read the front of a utility bill to remember your address.
3)
…you're trying to make a pot of coffee (my life's blood) and for some mysterious reason, attempt to insert the empty coffee cup into the pot instead of the "basket" full of grounds…(Umm, not only will this NOT work, but it WILL make one heck of a mess! Just sayin'.)
4)
…you put the cordless phone in the freezer and try to mount the pint of Double Fudge Brownie Ice Cream on the phone charger.
5)
…when checking in for an appointment, the nice lady behind the desk asks for your full name and all you can come up with is, "My hubby calls me Honey." (Or better yet, "Isn't it in my file?")
6)
…you stuff a cigarette in your left ear and attempt to light the earbud for your mp3 player. (OK, word to the wise. When you're wrestling with brain fog, NEVER have two items in your hands at a time. It's pretty much guaranteed you're gonna confuse them and criss-cross their purposes…which depending on the objects? Can have DIRE consequences. Feel free to use your imagination here…)
7)
…you make an important phone call only to have the party you're calling answer and, after a LLLOOOONNNNNGGGGGG pause, you're forced to inquire, "Who are you?"
8)
…you spend ten minutes searching for the cordless phone and after the search devolves into a muddled episode of cussing and couch-cushion throwing, complete with grilling each offspring as to where the be-jeepers they left the flippin' phone…one of them is kind enough to inform you it's in your left hand. (They claimed they were just curious about how long it would actually take to to realize I was holding it...evil spawn!)
9)
…you're grooving to your favorite song, enjoying the moment…maybe dancing...just a little…like you think you're J-Lo…until you hear a strangled yelp-gurgle-squeak noise coming from your daughter…and suddenly remember you're standing in the check-out line at Wal-Mart…
10)
…you're trying to hold a conversation with your hubby and keep wondering where the heck the music is coming from and who turned it up so darned loud that you can't even hear what the crap the guy is saying…only to have him point out that if you want to talk to him, you MIGHT want to remove your earbuds or turn your mp3 player off.
Sadly, these are all things that have happened…to a friend. Yeah. That's it…they happened to this girl I know. It was HORRIBLE! The woman is a complete, walking DISASTER! VERY embarrassing to be around…yep. A friend…
I would LOVE to hear you're "gone all stupid" stories…Please?

(Remember, sharing is caring. Make Barney and Mr. Rogers proud!)
May your day be filled with lots of…stuff. (Yeah, I've DEFINITELY caught "stupid.")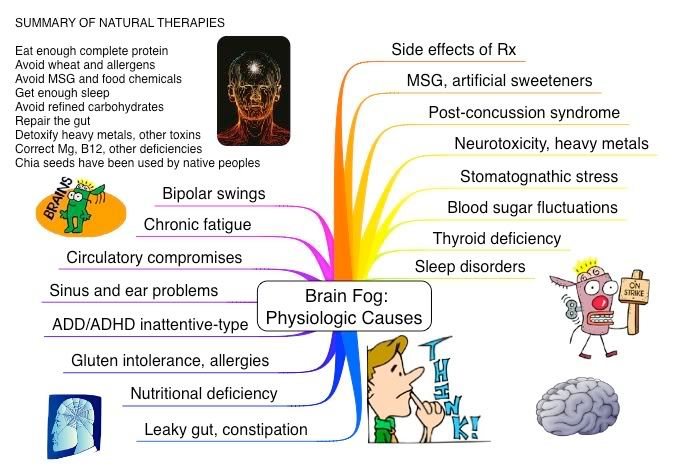 * To be a tiny bit responsible here, Brain Fog can actually have several causes besides chronic pain, lack of sleep, or being a parent. If you find you're living in the fog and have no friggin' clue why? PLEASE, see your Doc to check for an underlying cause.
Even though I can do some FUNNY, stupid shit, it can also be a dangerous condition. (Think about me behind the wheel of a vehicle like this! Ummm...I don't think so!) (I'm also currently banned from touching power tools or anything sharp.)